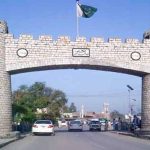 At least 41 passengers were killed and four were injured in the wee hours of Sunday when a Karachi-bound passenger van plunged off a bridge on a track of Bela in Lasbela, Balochistan۔
"The accident occurred at around 2:15am," Edhi Foundation Incharge Dr Hakim Lasi said. The rescue operation began at 3:00am and bodies were shifted to the Civil Hospital. As many as 48 passengers were on the bus.
The rescue officials came to the site after people at a nearby hotel got to know about the tragedy and dialed 1115, the number of Pakistan's biggest ambulance service, to call them up.