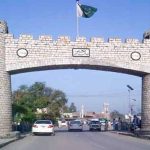 ISLAMABAD: Counting of votes is underway as polling concluded in the by-election for 35 National and provincial assembly seats on Sunday.
Voting concluded at 5PM with the Election Commission of Pakistan announcing that the time for polling would not be extended. According to ECP rules, the announcement of results will begin from 6PM.
Polling commenced at 8AM and continued till 5PM, with 370 candidates, including some political bigwigs opting for assembly seats. It is noteworthy that overseas Pakistanis voted for the first time in the by-polls.
Seats up for grabs comprised 11 from National Assembly, 11 from Punjab Assembly, nine from Khyber Pakhtunkhwa, and two each from Sindh and Balochistan.
Former Prime Minister Nawaz Sharif arrived at Government College of Science and Technology polling station but was unable to cast his vote in the NA-124 constituency of Lahore. Sharif was not allowed to cast his vote because he did not have his national identity card.
Shahid Khaqan Abbasi is the PML-N candidate in this constituency and the seat was won by Hamza Shehbaz Sharif in the 2018 general election.