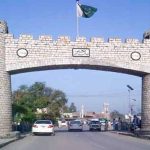 PESHAWAR: By-elections for Khyber Pakhtunkhwa Assembly seat PK-71, National Assembly seat NA-247 Karachi and Sindh Assembly seat PS-111 will be held tomorrow.
Election Commission has finalized all necessary arrangements to hold the elections in peaceful manner.
NA-247 was vacated by President Arif Alvi while PS-111 was vacated by Sindh Governor Imran Ismail and PK 71 fell vacant after Shah Farman was appointed as Governor Khyber Pakhtunkhwa.
Prominent candidates in the NA-247 include PTI's Aftab Hussain Siddiqui, PSP's Arshad Vohra, MQM Pakistan's Sadiq Iftikhar and PPP's Qaiser Khan Nizamani while
PTI's Shehzad Qureshi, MQM Pakistan's Jehanzeb Mughal, PML(N) Mohammad Zahid Hussain, PPP's Muhammad Fayyaz Pirzada, PSP's Yasirddin and a social activist Muhammad Jibran Nasir are in the run for PS-111.
A spokesman of Election Commission Khyber Pakhtunkhwa, Sohail Ahmad said that five candidates, including Zulfiqar Khan of PTI, Salahuddin of ANP and three independents are in the arena.