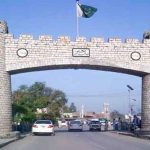 ۔
KARACHI: The Pakistan Tehreek-e-Insaf (PTI) emerged the victor in both of the metropolis seats, PS-111 as well as the coveted NA-247, according to the unofficial results from the 80 and 240 polling stations, respectively.
By-polls for the National Assembly seat NA-247, Sindh Assembly's PS-111, and Khyber Pakhtunkhwa Assembly's PK-71 were held today, with the vote count underway on PS-111.
The PTI's candidate Aftab Hussain Siddiqui bagged 32,326 votes in NA-247, followed by the Muttahida Qaumi Movement-Pakistan's (MQM-P) Sadiq Iftikhar as the runner-up at 13,985 votes and the Pakistan Peoples Party-Parliamentarians' (PPPP) Qaiser Khan Nizamani last at 13,012 votes.
As for the PS-111 constituency, Shahzad Qureshi of the PTI won with 11,658 votes, while the PPPP'S Muhammad Fayyaz Pirzada and the MQM-P's Jehanzeb Mughal were second and third at 5,780 and 2,146 votes, respectively.
ANP wins PK-71
On the other hand, the Awami National Party (ANP) clinched victory in the PK-71 constituency in the by-polls today, stealing the Peshawar seat from the PTI.
Unofficial results from all 86 polling stations showed that the ANP's Salahuddin secured victory on the PK-71 seat with 11,257 votes, followed by the PTI's Zulfiqar Khan, who secured 9,854 votes.
The PK-71 seat had fallen vacant after Shah Farman was appointed as Governor Khyber Pakhtunkhwa.
Independent candidates Dildar Khan, Abdul Karim Khan, and Fazale Haq Kohi Damani also contested on the seat.