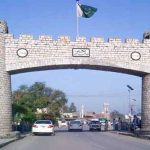 KARACHI: The Civil Aviation Authority (CAA) Wednesday announced that airports in Sialkot, Rahim Yar Khan and Bahawalpur will remain closed for all inbound and outbound air traffic for another 24 hours.
According to a notification issued by CAA, Pakistan's airspace will remain closed for all overflying (transit) flights till Thursday, March 14. The notification added that operations for all international flights entering the country's airspace through India will also remain suspended for at least one more day.
The partially restored operations at all active airports of the country will continue unchanged till March 22, the notam further added.