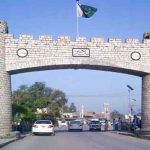 ISLAMABAD: A committee of the federal cabinet will meet for the first time today to discuss the plight of the Rohingya Muslims in Myanmar and to suggest measures and relief efforts for the persecuted ethnic minority.
The high-profile special committee, formed by Prime Minister Nawaz Sharif on Saturday, comprises Interior Minister Chaudhry Nisar Ali Khan, the Prime Minister's Adviser on Foreign Affairs and National Security Sartaj Aziz and the PM's Special Assistant on Foreign Affairs Tariq Fatemi.
According to a statement issued by the interior minister on Saturday, the committee will recommend steps to extend help to Rohingya Muslims when it holds its first meeting on Sunday in the federal capital.
In his statement, the interior minister criticised the international community and human rights groups for their "criminal silence and failing to take appropriate steps" to highlight the persecution and genocide of the Rohingya community in Myanmar.
Meanwhile, Pakistani real-estate tycoon Malik Riaz has also announced financial aid of Rs100 million for Muslims in Myanmar.
The Rohinghya are a heavily persecuted Muslim minority in Myanmar, many of whom live in displacement camps after deadly unrest erupted in 2012 in Rakhine, one of Myanmar's poorest states and a tinderbox of communal tension between its Buddhist majority and the ethnic Muslim minority.
Tens of thousands of Rohingya have fled Myanmar in recent years, alongside Bangladeshi economic migrants, primarily headed for Malaysia and Indonesia.
The exodus largely went ignored until a crackdown on the people smuggling trade in Thailand last month caused a regional crisis as gangmasters abandoned their quarry on land and sea.
Some 4,500 Rohingya and Bangladeshi migrants have since washed ashore in the region while the UN estimates around 2,000 others are still trapped at sea.
Myanmar´s government does not recognise the 1.3 million Rohingya living in Rakhine as citizens. Instead it classes them as illegal immigrants from neighbouring Bangladesh, even though many trace their origins back generations.
The Rohingya face daily prejudice and a raft of restrictions on their movement, family size and access to the job market.
Buddhist hardliners in Rakhine want Rohingya pushed out of the region altogether and are opposed to the central government offering stranded boat people any help.
The persecution of the Rohingya has been largely ignored by the international community, with international right groups and other Muslim countries blamed for their 'criminal silence' on the issue.
The cabinet committee meeting today is expected to come up with a solution to the issue and discuss Pakistan's role in urging Muslim countries to collectively resolve the humanitarian crisis.