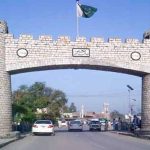 ISLAMABAD— The federal cabinet on Tuesday decided not to allow Pakistan Tehreek-e-Insaf planned long march towards Islamabad, citing the 2014 sit-in of the former ruling as the reason.
Addressing a press conference after the meeting of federal cabinet, Interior Minister Sanaullah said former Prime Minister Imran Khan wishes to create chaos and divide the nation. "A mob of miscreants will not be allowed to create anarchy," he said.
The decision comes as the government launches a crackdown against PTI leaders in major cities across the country. The interior ministry has directed the police to deal strictly with the PTI demonstrators while also asking for party leaders to be arrested. The police were conducting raids as per a list of PTI leaders, according to the former ruling party leadership.
Moreover, the federal capital and Punjab Assembly has also imposed Section 144 to stop the planned Pakistan Tehreek-e-Insaf's (PTI) long march towards Islamabad to push the government for early election.
Section 144 authorises the executive magistrate of any state or territory to issue an order to prohibit the assembly of four or more people in an area) in Islamabad for two months.
The cabinet members said it was a "unanimous decision" to stop the PTI from staging the protest and criticised Imran Khan for using "foul language and causing anarchy" in the country.