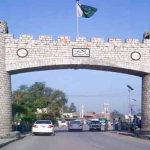 ISLAMABAD: Accountability court on Wednesday took up Maryam Nawaz's plea filed against Panama Papers' Joint Investigation Team (JIT) regarding usage of Calibri font in declaration certificates.
Maryam Nawaz along with her father Nawaz Sharif and husband Captain (r) Safdar appeared in the court during which, the section which lists punishment for submitting fake documents to JIT was omitted.
After hearing arguments of both the parties, the judge observed that the issue would be taken up in the court when the time comes.
Meanwhile, the NAB prosecutor announced to prove the allegations regarding Calibri font during trial.
Earlier, JIT declared the documents presented by Maryam Nawaz as forged, saying that the Calibri font was not available for public use then i.e before January 31, 2007.
The report said, "I have identified the type font used to produce both certified Declarations as 'Calibri', However, Calibri was not commercially available before 31st January 2007 and as such, neither of the originals of the certified Declarations us correctly dated and happy to have been created at some late point in time."
Later, a Microsoft representative said that the Calibri font was 'available in a pre-release form all the way back to 2004'. The representative wasn't able to verify the exact date but confirmed that it could have been available in 2004 as well.