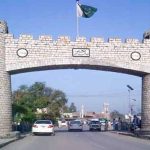 ISLAMABAD: A key witness in the supplementary reference case filed against former prime minister Nawaz Sharif said on Friday that the Calibri font was in existence in 2005 but was available in limited quantity.
This was revealed by UK forensic expert Robert Radley who told the court during a hearing of the supplementary reference in the Avenfield case against Nawaz Sharif.
The proceedings were carried out at the Pakistan High Commission in London from where it was live streamed to the court.
Investigation Director Amjad Majeed and representatives of former prime minister Nawaz Sharif were present at the high commission.
Radley observed in his findings, which were included in the JIT report, that he "identified the type font used to produce both certified declarations as 'Calibri'. However, [the font] was not commercially available before Jan 31, 2007 and as such, neither of the [documents] is correctly dated and [appear] to have been created at some later point in time."
During the hearing, Radley claimed that the dates on pages two and three of the declaration of offshore companies Nelson and Nescol were changed.
Robert Radley, who is head of his firm Radley Forensic Document Laboratory, told the court that he had examined the possible change in dates on both documents.
He said that the font used in both trust deeds of the two companies was the Calibri font. He however, stated that it was not available for commercial use before January 31, 2007.
Radley further informed the court that four stapler holes were found in the documents which implied that the corner piece had been opened.
He said that 2004 had been changed into 2006 and that a '6' had been replaced with a '4'. Further in his testimony, Radley claimed that the document could not be prepared commercially before January 31, 2007.
The defence counsel then questioned Radley over the availability of the font in Windows Vista and if Vista was released in three different versions. Radley obliged.
When asked, Radley confirmed that the first proper edition of the operating system was released on January 31, 2007. He said that the pre-launch beta version of Vista was also released for IT experts in April 2005.
He was then asked by the defence counsel as to whether the font was present in the pre-launch version of 2005 to which he replied in the affirmative but said that it was limited to only developers and IT experts.
He further added that testing was being conducted on a very limited level hence it was not possible that thousands of people could have access to it.
The court also recorded the statement of another witness, solicitor Akhtar Raja, through the video link.
The hearing of the case was adjourned till March 2, 2018.