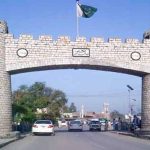 ISLAMABAD: Spokesperson for the foreign office Nafees Zakaria has said on Wednesday in reaction to Donald Trump's statement concerning Pakistan that 'there can be no moving ahead' unless sacrifices of Pakistan to counter terrorism are acknowledged.
In an exclusive interview, Nafees Zakaria said that United States (US) military generals as well as security authorities have admitted that there are no safe havens of terrorists in Pakistan.
They have admitted that terror networks operate in Afghanistan to carry out attacks in parts of Pakistan, he added.
The spokesperson said that India and her agencies are one big reason behind terrorism in Afghanistan. He said that Pakistan has spent at least USD 500 million in Afghanistan for schools and hospitals.
He mentioned Operation Radd-ul-Fasaad and Operation Zarb-e-Azb played vital role in ridding the country of extremist attacks. Ehsanullah Ehsan, surrendered spokesperson of Taliban confessed to have run training centres under auspices of India.
Zakaria further said that Pakistan cooperated with NATO, US and different regional forces in the best interest of the region.