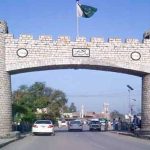 KABUL: A police official says a car bombing in northern Afghanistan on Wednesday killed two civilians and wounded 11.
Sayed Sarwar Hussaini, a spokesman for the police chief in Kunduz province, says the blast occurred when a local police vehicle was passing by.
Hussaini says no police officers were wounded in the attack, which took place near a hospital in the city of Kunduz.
No group immediately claimed responsibility for the attack. Such indiscriminate bombings are both a major threat to both Afghan security forces and civilians across the country.