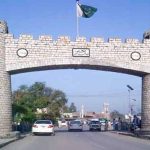 KARACHI: A car mysteriously exploded overnight in an empty plot in the Khadda Market area in DHA of Karachi on Monday morning.
Footage and photographs of the car show the charred remains of a decimated vehicle. The car cylinder, however, has been found intact. No casualties have been reported.
According to Bomb Disposal Squad officials, evidence collected so far does not suggest a cylinder blast. Police are investigating the incident and have recovered several gas cylinders from the plot where the car was found parked.
This is the second time that the car was discovered to have been stolen. It was last stolen in 2007 from the Boat Basin area of Karachi and was found five days later near Metroville, SITE area.