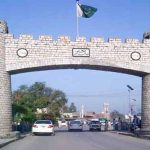 ISLAMABAD: The caretaker government has announced increase in the prices of petroleum products, which will come into effect 12:00am tonight.
According to details, price of petrol has been increased by Rs. 4.26 after which, it would be sold at Rs. 91.96 per litre.
Similarly, the price of light diesel has been jacked up by Rs. 6.14 and the new price will be Rs. 74.99 per litre.
The price of kerosene oil has seen an increase of Rs. 4.46 which sets the new price at Rs. 84.34 per litre.
Likewise, price of high speed diesel has been increased by Rs. 6.55 and will be sold at Rs. 105.31 per litre.