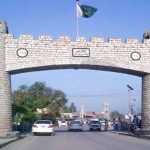 ISLAMABAD: Former Prime Minister Nawaz Sharif said on Tuesday that load shedding remained under control during PML-N government adding that now caretaker government is fully responsible for load shedding.
Nawaz Sharif had an informal talk with journalists at the accountability court. He had arrived at the court along with his daughter, Maryam Nawaz Sharif, for the hearing of the Avenfield reference.
Nawaz Sharif said that there was an increase of 10 MW of electricity during our government and load shedding remained under control but now it is responsibility of caretaker government to eliminate load shedding.
In response to a question about Director General of Inter-Services Public Relations (ISPR) Maj Gen Asif Ghafoor's comment regarding social media, Nawaz Sharif said that if your internal affairs are smooth everything is perfectly done.
He said that a single member bench has no rights to snub laws of the Parliament.
Journalists asked him to comment on the army spokesperson's press conference, in which he spoke about social media and the "year of change". Mr Sharif said he had not listened to the complete press conference and declined to comment on it. "Everything works fine when your own house is in order," he said.
Journalists then asked him about allegations that his party, Pakistan Muslim League – Nawaz, is behind Reham Khan's book. "When they couldn't find anything else against us, they came up with this allegation," said Mr Sharif. Reham Khan is a former wife of cricketer-turned-politician Imran Khan. She has recently written a book that PTI says contains lies about their chief.
At the court, the former PM reiterated his stance on the formation of a national commission. "If we get into power again, we will surely form the commission," he said. Mr Sharif first spoke about the need to set up the commission after allegations of treason against him. According to him, the commission should be assigned the task to ascertain who really was a traitor and worked against the interests of the country.
"When we left, there was no load-shedding," said Mr Sharif on questions regarding the intermittent power cuts. "The interim government is responsible." He said his government added an additional 10,000 megawatt in the system.
According to the former PM, he is unable to go for umrah or to visit his ailing wife, Kulsoom Nawaz, in London due to the frequent court hearings.