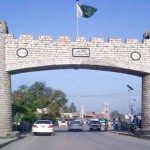 ISLAMABAD: Caretaker Minister for Information and Broadcasting Syed Ali Zafar says caretaker government has taken various measures to ensure peace and security for holding the general elections in time.
Talking to a private news channel, he said the anti-state elements want to halt the elections.
The caretaker minister said code of conduct for general election has been shared with political parties.
To a question, he said all postings and transfers in government institutions have been made on merit.
To another question regarding water issue in the country, Ali Zafar said the entire nation is united and have unanimous views on the issue of water reservoirs.
He was of the view that Kalabagh dam is an excellent plan but unfortunately, the matter has been politicized.
Ali Zafar stressed the need for proper use of water to save extra water for dams.