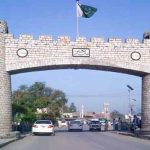 ISLAMABAD: Caretaker Prime Minister Justice retired Nasirul Mulk on Wednesday took notice of excluding name of Pakistan Tehreek-e-Insaf (PTI) chairman Imran Khan's close friend Zulfi Bukhari from Exit Control List (ECL).
According to details, the interim premier has sought a detailed report from the authorities concerned and them to submit the report as early as possible.
It is to be mentioned here that Zulfi Bukhari was granted permission by the Interior Ministry to accompany PTI's chief Imran Khan to travel to Saudi Arabia for Umrah.
As per ministry notification, the immigration authorities were directed to grant one-time permission to Zulfi Bujhari for six days to perform Umrah.
Prior to that, he was barred from going Saudi Arabia along with PTI chief Imran Khan due to name on ECL at the Noor Khan Airbase in Rawalpindi.
His name was placed on the no-fly list on National Accountability Bureau's (NAB) suggestions.