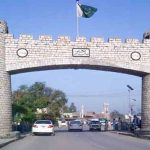 KARACHI: A four-storey residential building where several families were residing collapsed early Monday morning in the Jafar-e-Tayyar area in Karachi's Malir.
Multiple people were feared trapped under the rubble as authorities rushed to the scene for extraction and to provide medical and rescue services.
According to sources, some six families were living in the residential building.
While rescue operation is underway, at least one dead body and five injured persons are retreived from underneath of the debris.
According to some reports, around 30 people were trapped under the rubble and as of 8:30am, three have been rescued. Two bodies have also been retrieved, including that of a woman.
Rescue teams have just reached the scene but no heavy machinery has arrived. Residents of the area are pulling people out from under the rubble themselves.
Seven families lived in the building. The three people rescued from the rubble have been taken to a hospital.
People are removing items from the building as well.
The building was constructed on 96 square yards of land.
The police, Rangers and rescue teams are at the site but so far no heavy machinery has arrived to help move the rubble.
Sindh Chief Minister Murad Ali Shah has taken notice of the incident and directed the Karachi commissioner to supervise the rescue work. He has also summoned a report on how the building collapsed.
Local Government Minister Saeed Ghani said the lanes in the area are extremely narrow, making it difficult or almost impossible for the heavy machinery to get to the building collapse site.