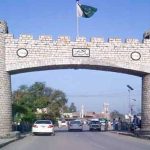 ISLAMABAD: Election Commission of Pakistan has directed all the relevant institutions to work in close collaboration for the smooth and peaceful conduct of general elections.
The directions were issued at a meeting chaired by Chief Election Commissioner Sardar Raza Muhammad in Islamabad today (Saturday) which discussed the security related matters.
The election commission directed the provincial governments to evolve security related strategy after taking a holistic view of current security situation in collaboration with the relevant institutions.
It said the political parties and the masses should also extend cooperation for peaceful conduct of the general elections.
The election commission reaffirmed the resolve that the election process will go ahead at all costs.
On the occasion, Coordinator NACTA Dr Muhammad Salman Khan briefed the election commission about security threats and overall security situation in the country.
The commission directed the NACTA to keep the commission updated about the security situation.