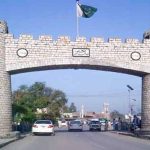 ISLAMABAD: A meeting chaired by Chief Election Commissioner (CEC) Sardar Muhammad Raza Khan in Islamabad today and discussed matters related to security for the general elections.
National Counter Terrorism Authority (NACTA) officials briefed the meeting about the security threats faced by leaders of political parties.
The commission was also apprised about the arrangements being made for security of political leaders and contesting candidates.
The meeting came in the wake of recent terror attacks in Khyber Pakhtunkhwa and Balochistan which amongst scores of people also claimed the lives of two contesting candidates.