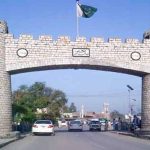 ISLAMABAD: Chief Election Commissioner (CEC) Justice Retd Sardar Mohammad Raza Khan announced the first unofficial result this morning.
Addressing a news conference in Islamabad, he said Chaudhry Mohammad Adnan of PTI won from PP-11 Rawalpindi-6 by securing 43,079 votes.
Earlier, he thanked all institutions, including army, media, and judiciary, which helped in the conduct of general election in a free, fair and transparent manner.
Sardar Mohammad Raza said technical faults in the RTS were the main cause of delay in the announcement of election result.
Answering questions from newsmen about allegations of rigging by certain political leaders, the Chief Election Commissioner said the election was hundred percent fair and transparent.
He said if there was delay in the announcement of the results because of technical fault in RTS system, it does not mean rigging.