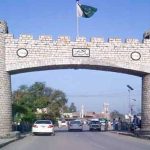 ISLAMABAD: Chief Election Commissioner (CEC) Sardar Muhammad Raza Khan drove the Chairman of Aam Log Ittehad Justice Retd Wajiud Din out of his office after the later exchanged harsh words with the former.
The Election Commission was all set to conduct hearing into the registration of Aam Log Ittehad Party; however, the hearing was adjourned.
Enraged by this, Aam Log Ittehad Party Chairman Justice Retd Wajiud Din went into the chamber of CEC Sardar Muhammad Raza Khan and exchanged harsh words with him.
Wajiud Din told the CEC said that the hearing should not have been adjourned as they have traveled from Karachi.
The CEC complained about his loud tone; however, Wajiud Din said, "You are a public servant and you should have been ready for these things".
Upon this, Wajiud Din and his lawyer were kicked out of the office of CEC.
Meanwhile, Wajiud Din announced to file a complaint against CEC Sardar Muhammad Raza Khan in the Supreme Judicial Council for his disrespectful behavior.