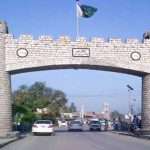 PESHAWAR: The Central Ruet-i-Hilal Committee will hold an unprecedented meeting in Peshawar on April 13 for the sighting of Ramazan moon as it is likely to be joined by the local unofficial Ruet committee headed by Mufti Shahabuddin Popalzai for the first time.
Chairman of the Central Ruet-i-Hilal Committee Maulana Abdul Khabir Azad told a presser here on Wednesday that Mufti Popalzai, who headed the unofficial moon-sighting body at the historic Qasim Ali Khan Mosque, Peshawar, would extend full cooperation to the central one.
He said the Ruet meeting would be held in Peshawar to develop consensus about the start of Ramazan across the country the same day and ensure that no one complains about the sighting of the moon.
Maulana Azad was accompanied by religious scholars of different schools of thought, including former chairman of the Council of Islamic Ideology Prof Qibla Ayaz, Maulana Tayyab Qureshi, Prof Hafiz Abdul Ghafoor, Maulana Fazal Jamil Rizvi, Tanzeem Al-Akhwan general secretary Tariq Awan, Allama Abid Shakiri and Allama Fakhr ul Hassan Kararvi.
He expressed the hope that the meeting would help resolve the complaints of Ulema in Khyber Pakhtunkhwa about the sighting of Ramazan moon.
He said the meeting of the Ruet-i-Hilal Committee in Peshawar would be a 'positive step in the right direction' for the simultaneous start of Ramazan in the country.