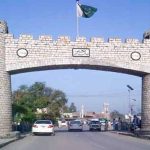 ISLAMABAD: Interior Minister Chaudhry Nisar Ali Khan has directed ICT administration, CDA, NADRA and ICT Police to chalk out an integrated and comprehensive strategy for ensuring security of the federal capital in view of the current security challenges. He said that with the launch of Pakistan Metro Bus Project, all the concerned departments need to gear up their efforts towards ensuring the safety of over hundred thousand commuters availing the facility daily between the twin cities.
Chairing a meeting today that was convened to review law & order situation in the federal capital and chalking out a comprehensive strategy to address the issue of slums areas and katchi abadis of Islamabad in the light of directions of Islamabad High Court, the Minister observed that the residents of Katchi-abadis were not only the illegal occupant of valuable private and public land, some of them pose serious security hazards for the Capital. He directed the administration that the Court's orders regarding clearing of the illegal settlements in the federal capital should be implemented in true letter and spirit. He stressed upon the need that the process of clearing illegally occupied lands should be undertaken in a systematic and phased manner so as to ensure that there is no law and order situation and also that those who are displaced are properly taken care of.
The Minister also directed Chairman CDA to further strengthen the enforcement wing and the monitoring wing of organization so that there are no illegal occupations or re-settlement in the federal capital.
Reviewing law & order situation, the Minister reiterated his call that the Capital Police should focus on putting in place a robust mechanism of pre-emptive measures and effective response system to cater to any security situation.
The Minister said that with zero political interference, it is now the duty of Police to manifest qualitative change in the service delivery. He said that the Police should focus on facilitating public and must ensure that the every citizen is accorded equal treatment as per law. The Minister asked the high officials to encourage and reward those police officials who perform their duties honestly and with dedications.
AIG Islamabad briefed the meeting about security audit of the important buildings in Islamabad. The Minister directed ICT Police to ensure that the comprehensive security arrangements of commercial building are in place by 15th of this month.
On security arrangements regarding the upcoming local bodies elections, the Minister directed that a three pronged security strategy encompassing arrangements before, during and after elections should be devised and implemented so as to ensure that the elections are held in a free and peaceful manner.