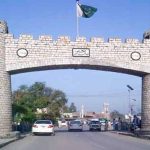 ISLAMABAD: Interior Minister Chaudhry Nisar Ali Khan will inaugurate e-passport facility on Monday.
Chairing a meeting in Islamabad on Friday, he directed the authorities concerned to start the first phase of issuing e-passports by May-June next year.
During the meeting, FIA presented investigation report into hiring of a building by NADRA officials at 4.5 million rupees per month.
On findings of irregularities and violations of the concerned rules and regulations, the Minister suspended the entire hiring team including the director general.