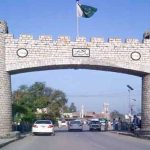 ISLAMABAD: Chairman Senate Muhammad Sadiq Sanjrani on Sunday expressed concern over a raid on the residence of Pakistan Tehreek-e-Insaf (PTI) senior leader Shibli Faraz in the federal capital's F-7 sector.
Sadiq Sanjrani urged police to respect the sanctity of the home as Faraz was a member of the Senate. He directed the Inspector General of Police (IGP) Islamabad to provide a detailed report of the incident without delay.
It is pertinent to mention here that Islamabad police raided Senator Shibli Faraz's house in Islamabad on Sunday and harassed members of his family and servants. However, Mr Faraz could not be found at his residence.