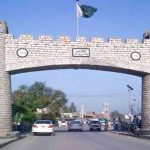 CHAMAN: The Chaman border remained closed for a fourth consecutive day on Wednesday after an armed men from the Afghan side opened fire on Pakistani security forces at Friendship Gate, resulting in the martyrdom of one soldier and injuries to two others on Sunday.
Reacting to the unfortunate incident, Pakistan authorities closed the the Friendship Gate and frequent crossing route for indefinite period. Abdul Hameed Zahari, the deputy commissioner of Chaman, said that crossing point would be opened only after the armed terrorist who opened fire on security personnel is handed over to Pakistan. He said that footage of the incident has shared with the Afghan authorities.
He further said that the security agencies of the Islamic Emirate were trying to pay serious attention to prevent such incidents from happening again.
A large number of trucks loaded with goods are stranded in Spin Boldak and Veesh Mandi and waiting for the opening of the border.