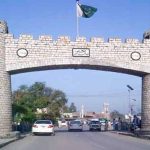 QUETTA: Pakistan Thursday reopened its Chaman border with Afghanistan after 14 days of its closure.
Pakistan had shut down its border with Afghanistan at Chaman on August 19, a day after Aghan national burned the Pakistani flag and attacked the Friendship Gate. The Afghan nationals had set the national flag on fire in the backdrop of Pakistani tribesmen rally held in Chaman in protest against the Indian prime minister's remarks on Balochistan.
Islamabad agreed to reopen the border on Wednesday after Kabul strongly condemned the burning of the Pakistani flag. Officials from both sides held five meetings to discuss the issue until negotiations finally succeeded.
Trade activities between the two countries which had come to a standstill following closure of the border resumed on Thursday and security on both sides remains strict.
A three-member Afghan delegation, led by Col Mohammad Ali, had at the Tuesday night meeting handed over to Pakistani officials a letter in which the Afghan government strongly condemned the Aug 18 incident of burning of the Pakistani flag and pelting the Friendship Gate with stones.
Afghan nationals set the Pakistan flag on fire when thousands of Pakistani tribesmen held a rally in Chaman in protest against the Indian prime minister's remarks on Balochistan.
The 14-day closure of the border badly affected Nato supplies, transit trade and repatriation of Afghan refugees under a UNHCR programme. Traders from both sides also suffered huge financial losses as all business activities remained suspended.
Every day, between 10,000 and 15,000 Pakistani and Afghan traders cross into Chaman and Vesh Mandi in connection with their businesses in the border towns.