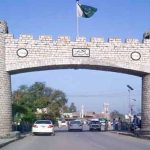 KARACHI: Change of guard ceremony was held at the mausoleum of Quaid-i-Azam Mohammad Ali Jinnah in Karachi on the occasion of 53rd anniversary of the 1965 war.
A contingent of the Pakistan Navy, clad in ceremonial dresses, presented the guard of honour and assumed the ceremonial guard duties at the mausoleum.
Chief guest Air Vice Marshal Nadeem Sabar inspected the parade. He laid a floral wreath at the grave and offered Fateha.
On the other hand, a smartly turned out contingent of Pakistan Army presented guard of honour at Allama Iqbal's mausoleum in Lahore.
Garrison commander Major Genral Muhammad Aamir laid wreath at the grave penned down his thoughts in the guest book.
Meanwhile, a band presented guard of honour in Peshawar's Colonel Sher Khan Stadium.
The entire nation along with the armed forces of the country is celebrating the Defence Day on Thursday with a solemnized pledge to continue to defend of the geographical, ideological boundaries and territorial integrity of the motherland.
It was on this day in 1965 that the Indian forces crossed international border in the darkness of night to attack Pakistan but ever-vigilant armed forces, solidly backed by the nation, foiled nefarious designs of the enemy.