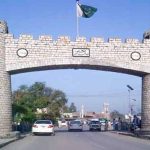 LAHORE: A change of guard ceremony was held on Thursday at the mausoleum of national poet and philosopher Allama Iqbal on the occasion of his 141st birth anniversary.
A smartly turned-out contingent of the Pakistan Navy clad in immaculate whites, assumed ceremonial guard duties with traditional spirit and enthusiasm.
Contingents of the Pakistan Navy and Rangers formed up outside the mausoleum and took positions alongside.
Marching to the band tunes, the Naval Contingent took positions at the four corners of the mausoleum. Also, the Rangers were ceremoniously moved out by their officer-in-charge.
Punjab Chief Minister Usman Buzdar and Pakistan Rangers (Punjab) Director General visited the mausoleum. They offered fateha and laid floral wreath at the mausoleum.
The visitors also recorded their impression in the Visitors Book.