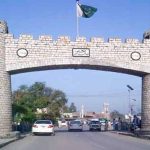 LAHORE: Pakistan Muslim League-Quaid (PML-Q) leader Chaudhry Shujaat Hussain appeared before the National Accountability Bureau (NAB) on Thursday.
However, Chaudhry Pervaiz Elahi, ex-chief minister of Punjab, decided against appearing before the NAB officials.
The anti-graft body summoned the Chaudhry cousins yesterday in connection to allegations of owning assets beyond their known sources of income.
According to NAB sources, the Chaudhry cousins have failed to submit verified details of their assets. "If they do not submit the required records, NAB would initiate an inquiry against them under Schedule 2," the anti-corruption watchdog warned.
The Chaudhry cousins had earlier recorded their statements in NAB during previous hearings.
The duo are facing the charges of misusing their authorities, framed against them back in 2000 before they joined hands with former military ruler General Pervez Musharaf.
The graft case against Chaudhrys of Gujrat is also among the 179 mega corruption cases list, compiled and submitted in the Supreme Court by the anti-corruption watchdog in 2015.
The brothers were involved in Rs.2.428 billion corruption case, as per the details.
According to sources in NAB Lahore office, a number of shares have surfaced in various companies under the name of Pakistan Muslim League-Quaid leaders Chaudhry Shujaat Hussain, his cousin Chaudhry Pervez Elahi and their family.
Chaudhry Pervaiz Elahi is PTI's nominee for the post of Punjab Assembly speaker. He is contesting against Pakistan Muslim League-Nawaz's candidate Chaudhry Muhammad Iqbal Gujjar.