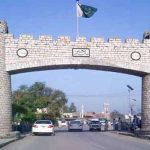 ISLAMABAD: Chief Justice of Pakistan on Tuesday ordered Sindh police not to arrest the former SSP Malir Rao Anwar, who is accused of killing Naqeebullah Mehsood in a fake encounter.
The CJP's directives came after Rao Anwar wrote a letter to him saying that he was not present at the crime scene.
Rao Anwar in his letter to Chief Justice wrote that he was prepared to attend the investigation if an "independent" Joint Investigation Team (JIT) is formed to probe the killing of the youth from South Waziristan.
Denying his role in the encounter, the officer said he was not present during the encounter that killed Mehsood early last month in outskirts of Karachi.
The chief justice said Rao Anwar has mentioned in his letter "services" that he rendered for the people of Malir, the district of Karachi where he called the shots for years.
The chief justice was hearing suo motu case of Naqeebullah Mehsood's killing .
During the hearing the chief justice asked police not arrest Rao Anwar and provide security to the absconding officer so that he could attend the hearing on Friday.
The court has also ordered to form a Joint Investigation Team (JIT) in the case.
During the hearing of the suo motu case, Sindh Inspector General AD Khawaja, Intelligence Bureau (IB), Inter-Services Intelligence (ISI) AND Federal Investigation Agency (FIA) submitted their report in the court.
Sindh IG assured the court of tracing Rao Anwar's location. IB maintained that the location cannot be tracked from WhatsApp.
"It means that no development has yet been made. We give respite to you every time. It seems that we ourselves have to find Anwar. Tell us the way to arrest him," said the CJP.