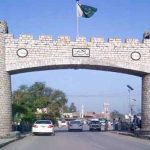 LAHORE: The Chief Justice of Pakistan Mian Saqib Nisar on Saturday removed the provisional vice chancellor of Punjab University Dr Zakria Zakar from his post.
The CJP issued the order while taking suo motu notice of the construction of grid station on university land. The syndicate members who alloted the land have been summoned by the court.
The court while expressing stern resentment over the matter questioned, "Who are you to sell the university's land to the government? You people are only appointed to bow your heads before the government. It has been proved now that permanent VC's are not appointed for approving the legal and illegal demands of the government."
"Why a permanent VC has not been appointed from the past two and a half year. Who is responsible for the delay?" asked the CJP.
Senior advocate Khalid Ranjha requested the court to review the decision to suspend the VC. Dr Zakria Zakar informed the court he will immediately redign fro his post and submit it in the SC.
The court directed to appoint the most senior professor as the acting VC of the university.
On the other hand, the Chief Justice winded up the suo motu notice on hen meat. The report submitted in the court said that chicken meat is not injurious to helath whereas the germs are only found in the claws of hen. "It is good that chicken is eatable," said the CJP.