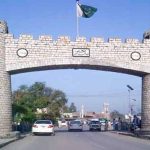 ISLAMABAD: Chief Justice of Pakistan (CJP) Justice Mian Saqib Nisar on Wednesday took suo-motu notice of ongoing publicity campaigns by the Punjab, Sindh and Khyber Pakhtunkhwa provinces.
Hearing a case related to the prices of medicines, the chief justice remarked that the governments of KP, Sindh and Punjab are running advertisement campaigns at taxpayer's expense. He observed that such campaigns fall under the purview of pre-poll rigging in light of the upcoming general elections.
The chief justice directed the provincial chief and information secretaries to submit a report on the campaign in a week and adjourned the hearing until March 12, when he himself will hear the case.
Chief Justice Nisar observed during the hearing that party funds and not the national exchequer should be used for such advertising campaigns. He also remarked during the hearing that there are no medicines in hospitals and no clean drinking water for the public but advertisements are being aired at the people's expense.