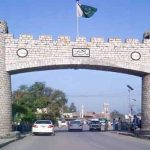 PESHAWAR: A Child Protection Court  in Peshawar  awarded death sentence to a cleric for allegedly sexually abusing a seven-year-old girl on premises of a mosque.
Additional District and Sessions Judge Wadeeya Mushtaq Malik authored the verdict. The court ruled that Qari Saeed from Peshawar was found guilty of an offence of rape and was convicted under Section 376(3) of the Pakistan Penal Code.
The case against the accused rapist, Qari Saeed, on charges of raping a minor girl was registered by the victim's parents on March 13, 2019 under Child Protection and Welfare Act 2010 and other relevant laws. The complainant had said he and other family members were present in their house when his daughter returned home crying and said Qari Saeed sexually assaulted her in a room of the mosque.
The court found the accused guilty on the basis of medical report and other available evidence. The court also imposed a fine of Rs100,000 on the accused and also directed him to pay Rs300,000 to the victim's family as the girl had suffered mental and physical anguish and lifelong trauma.
Qari Saeed initially pleaded not guilty, but could not prove his innocence. The girl was also produced in the court as witness where she testified the cleric.