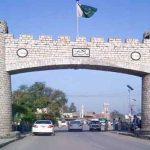 ISLAMABAD: The third round of China-Afghanistan-Pakistan Trilateral Foreign Ministers' Dialogue was held in Islamabad.
Foreign Minister Shah Mahmood Qureshi chaired the meeting which was attended by his Chinese and Afghan counterparts, Wang Yi and Salahuddin Rabbani respectively, along with their respective delegations.
The agenda of the meeting focused on political relations, Afghan peace process, and security cooperation.
Issues relating to development cooperation, counter terrorism, and promotion of mutual contacts were also likely to be discussed in the meeting.