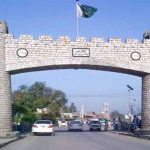 ISLAMABAD: The Chinese Embassy has denied media reports that Pakistan women were being forced into prostitution or sale of human organs.
"According to investigations by the Ministry of Public Security of China, there is no forced prostitution or sale of human organs for those Pakistani women who stay in China after marriage with Chinese," the embassy said in a statement.
The statement added that a few criminals would not be allowed to undermine China's friendship with Pakistan and hurt friendly feelings between people of the two countries.
In a crackdown in Punjab, the Federal Investigation Agency (FIA) has arrested Chinese nationals accused of trapping Pakistani women into fake marriages.
The embassy clarified that China's position on the issue of transnational marriage was to protect legitimate marriages and combat crimes. "If any organization or individual commits a crime in Pakistan under the banner of the cross-border marriage, China supports the Pakistani side to crack down on it according to Pakistani laws."
According to the embassy, The Ministry of Public Security China had sent a task force to Pakistan to carry out law enforcement cooperation. "China will further strengthen cooperation with the law enforcement agencies in Pakistan, effectively combat crime, so as to protect the legitimate rights and interests of the two peoples, and jointly safeguard China-Pakistan friendly relations," the statement added.
Earlier this week a woman from Gujranwala approached a local court seeking nullification of her nikah with a Chinese man after she fled from China and returned to Pakistan.
Rabia, a resident of Gujranwala's Fattumand area, married a Chinese national on January 1, after which she moved to China along with him. According to the victim, the matchmaking was done by a Christian neighbour of hers.
She said her husband would subject her to torture, at which she approached Chinese police through the Pakistani consulate. The police helped her return to Pakistan, Rabia said.
Another Pakistani woman, who married a Chinese citizen, has submitted a complaint with FIA.
The woman, Tayyaba, said it's not just a few Chinese nationals marrying local girls, rather a whole gang is involved in the scheme.
She appealed to Pakistani girls not to marry Chinese nationals.