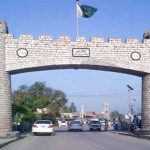 BEIJING: Senior military officials from China and Pakistan met on Tuesday in Beijing, pledging to strengthen practical cooperation in such areas as training, military equipment, and anti-terrorism, the state-run Xinhua news agency reported.
In his meeting with visiting Pakistan Air Force Chief Marshal Sohail Aman, Fan Changlong, Vice Chairman of China s Central Military Commission, said the Chinese military is willing to work with the Pakistan counterpart to maintain the growth momentum of military-to-military exchanges and beef up pragmatic cooperation in training, equipment and anti-terrorism.
"China and Pakistan have become iron friends , always trusting and supporting each other," Fan said.
He expressed his hope the two countries military cooperation will contribute to regional peace and stability.
Pakistan has always placed the two country s bilateral relationship as a top priority, Sohail said. Pakistan is willing to join hands with China to strengthen all-round military-to-military exchanges and cooperation, particularly in the air force.
He hoped the two countries military cooperation will provide a safe and secure environment for China-Pakistan economic corridor and deepen their all-weather friendship and all-dimensional cooperation.