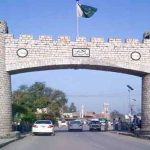 BEIJING: China on Monday praised Pakistan's security forces for their swift action in neutralising the terrorists who attacked a luxury hotel in Gwadar and ensured the safety of the Chinese personnel there.
Foreign Ministry Spokesperson Geng Shuang while addressing a press briefing said China strongly condemns the terrorist attack targeted at the hotel. "We'd like to express condolences to Pakistani personnel who lost their lives in the attack, and convey sympathy to the bereaved families and the injured."
Geng further said China appreciates the timely measures taken by Pakistani security forces to deal with the terrorists, which have effectively safeguarded Gwadar's security and stability as well as the safety of Chinese personnel and institutions stationed there.
"We will continue to firmly support Pakistan's efforts in fighting terrorism and believe that the Pakistani government and military have the capacity to maintain national security and stability," the spokesperson said.
Responding to Prime Minister Imran Khan's statement condemning the attack, the spokesperson said, "Prime Minister Imran Khan also condemned the attack saying that it is an attempt to undermine Pakistan's economic prosperity and stressed that his country would not allow terrorist plots to succeed."
He added that China has always supported Pakistan's national development, and "we will continue to support Pakistan's economic and social development and the improvement of people's livelihoods."
On Saturday, terrorists stormed a five-star hotel in Gwadar. All three terrorists were killed by the security forces during the clearance operation.
Five people had embraced martyred, including four hotel employees and a Pakistan Navy soldier. Six individuals got injured including two Army captains, two Navy soldiers and two hotel employees, according to Inter-Services Public Relations
The luxury hotel is located on the Koh-e-Batil Hill, south of West Bay on Fish Harbour Road and overlooks the Arabian Sea.