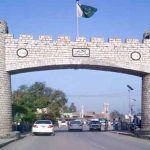 BEIJING: China says it will provide necessary support and assistance to Pakistan in tiding over the current economic difficulties.
Chinese vice Foreign Minister Kong Xuanyou was talking to the media persons in Beijing's Great Hall of the People today following Prime Minister Imran Khan's talks with Chinese Premier Li Keqiang
He said relevant authorities of the two sides will have detailed discussions to fix the details.
Kong said there would be no change in the number of projects under CPEC.
He said, however, the scope of corridor project would increase and will tilt in favor of people's livelihoods.