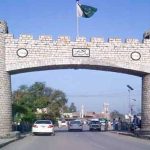 PESHAWAR: The Chinese firm working on the Dasu Hydropower Project has stopped work on the site citing "security concerns" and laid off all but the most essential Pakistani workers.
According to the TV report, the China Gezhouba Group Company (CGGC) has intimated through a letter that due to the July 14 bus incident in which nine Chinese nationals were killed, the company cannot continue operations on the project.
The CGGC stated that the laid off Pakistani employees will be paid salary and gratuity as per their contract.
Project Director Anwarul Haq has confirmed that the Chinese firm has stopped work on the project, adding that it will restart work as soon as the security situation improves.
At least 12 people, including nine Chinese nationals working on the project were killed when a bus carrying ferrying them fell into a ravine following an explosion.
The federal government has launched an investigation into the tragic incident and a 15-member Chinese security team has also been involved in the probe.
Meanwhile, Federal Interior Minister Sheikh Rasheed has said that the probe into Dasu incident is in its final stages and will be completed soon. Rasheed said that he has directed security agencies to further improve the security of Chinese nationals.