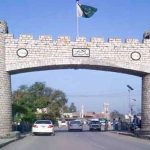 ISLAMABAD: The Chinese Embassy has alleged that a member of the terrorist network East Turkestan Islamic Movement has "sneaked into Pakistan" and poses a threat to Chinese Ambassador Sun Weidong, it was learnt on Sunday.
In a letter that was leaked to the media on Saturday, the Chinese Embassy has requested that Pakistan increase security provided to Chinese companies and Chinese people in Pakistan.
The embassy, in the letter, has also asked the ministry to arrest the alleged terrorist and hand him over to China.
The letter, carries the letterhead of the Chinese Embassy and the signature of police officer, Peng Yunfei, the focal person for the China-Pakistan Economic Corridor (CPEC).
When contacted by Dawn.com, the embassy and the Interior Ministry refused to comment on the letter, neither refuting nor verifying its authenticity.
In June, the militant Islamic State group had claimed that it had killed two Chinese nationals who were abducted from Quetta in May. China has often urged Pakistan to improve security after pledging around $57 billion to build power plants, railways, and roads that will cross the Himalayas to connect western China with Gwadar port.
In July, two days after an incident of firing on Chinese nationals in Ghotki, Sindh Home Minister Sohail Anwar Siyal had directed the police to ensure extraordinary security for Chinese and other foreign nationals working on CPEC projects.