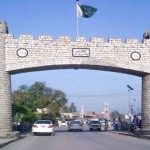 ISLAMABAD: Foreign Minister of China Qin Gang has arrived in Islamabad for trilateral meeting of the foreign ministers of Pakistan, Afghanistan and China.
The trilateral meeting on Afghanistan would be held tomorrow. The acting foreign minister of Afghanistan Amir Khan Muttaqi will also attend the meeting.
Earlier, Foreign minister Bilawal Bhutto Zardari held bilateral meeting with his Chinese counterpart in Goa, India, on the sidelines of the SCO meeting.
In a tweet, Bilawal Bhutto Zardari stated that he was delighted to meet state councilor and foreign minister of China Qin Gang on the sidelines of the SCO-CFM at Goa. "Pakistan and China are iron brother and will continue to work together for regional peace and prosperity of our peoples. Looking forward to welcoming him in Islamabad.