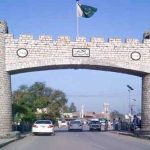 PESHAWAR: A Chinese engineer Xwang Ling tied the knot to a Peshawar woman Zainab at a local court on Monday.
The Chinese national, named Xwang Ling, married Pakistani woman Zainab after falling in love with her.
The Chinese man is working as a solar engineer in Pakistan while Zainab is a resident of Civil Quarter in Peshawar.
The two became friends a while go and later fell in love with each other. Taking their relationship further, they did court marriage.
The Chinese man has embraced islam to marry the Muslim woman and has changed his name to Azaan.
In December, a Chinese engineer tied the knot to a Pakistani girl.
According to details, Xong Kong, a Chinese engineer working in a plastic manufacturing factory in Sundar Industrial Estate became friends with the uncle of a girl, residing in Mission Colony, Raiwind.
The girl, named Jiya Jennifer, the orphan niece of the man the Chinese engineer knew, runs the Ministry Sunday school in Raiwind's Christian Colony where Chinese nationals often come to pray.
The Chinese engineer also used to go there and came to know about Jiya Jennifer. He then talked to the girl's uncle about marrying her to which both the families agreed.
The two tied the knot among prayers of friends and family. This was Jiya's second marriage after getting divorced in the first one.
Earlier, a Chinese national took Pak-China friendship to another level when he came to Muridke to marry a Pakistani girl. Pakistani girl Maham and China's Mr Li became friends on Facebook. They gradually fell in love and Li came to Pakistan to marry Maham, who also belongs to a Christian family in Muridke.
In August, a Chinese man came to Sargodha and expressed his liking for the Pakistani girl and tied the knot with her.
Earlier in April, another Chinese guy married a girl in Sargodha after friendship on Facebook. The Chinese guy had fell in love with Facebook friend Shama, belonging to Sarghoda, and came from China along with his sister to marry her.