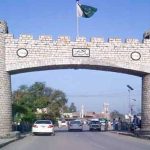 LAHORE: Chinese Vice President (VP) Wang Qishan on Monday returned back from Lahore airport after concluding a three-day official visit to Pakistan.
Punjab Chief Minister Sardar Usman Buzdar escorted the guest to the Lahore airport. Several members of the provincial cabinet, federal minister Khusro Bakhtiar and other high-rank officials accompanied the CM and the Chinese VP.
Before his departure, Mr Qishan visited Badshahi mosque in Lahore where he was shown Islamic artefacts and briefed by provincial minister for religious affairs Syed Saeed Ul Hassan. The Chinese VP expressed great interest in the artefacts and praised the architecture of the historical mosque.
Yesterday, the Chinese VP visited the Haier-Ruba Economic Zone and inspected its various sections. He was briefed about performance of the Haier-Ruba Economic Zone and the new products of Haier Company. Subsequently, he lauded the performance of Haier-Ruba Economic Zone. Officials of Chinese Embassy also accompanied him during the visit.
CM Buzdar said he was very happy to host the Chinese VP.
Mr Buzdar said that the Punjab government has been striving for the promotion of the industrial sector through the new industrial policy and a number of facilities have been provided to the investors in Punjab.
He highly appreciated Chinese investment in the country, and said that the Chinese investors will be facilitated. Provincial ministers including Hashim Jawan Bakht, Mian Aslam Iqbal and others were also present on the occasion.
"The arrival of the Chinese Vice President to Pakistan is a matter of honor and pride for us," he said and added the signing of agreements and MoUs will start a new era of development and prosperity.
The chief minister further said that the inauguration of CPEC projects is a welcoming step.
On the occasion, Wang Qishan said that he is very happy to visit Lahore. Chinese Ambassador Yao Jing, Consul General Long Dingbin and other members of the Chinese delegation were also present on the occasion.
Punjab Governor Chaudhry Sarwar hosted a dinner in honour of the Chinese vice president at Governor House. The governor said the Pak-China friendship was based on the desire for peace, mutual values and culture.
Speaking on the occasion, Mr Buzdar said his government was striving to promote the industrial sector. A number of facilities had been provided to the investors in Punjab, he added.
He said the signing of agreements and memorandums of understanding with China would help start a new era of development and prosperity.
On Sunday, Pakistan and China had signed several memorandums of understanding (MoUs) to deepen bilateral cooperation in multiple spheres.
The signing ceremony was held in Islamabad which was attended by Prime Minister Imran Khan and Chinese Vice Prime Minister Wang Qishan.
These MoUs include cooperation in economic and technical affairs, disaster management and assistance in agriculture sector of Lasbella University.