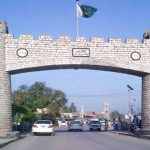 SWAT: Jamiat Ulema-e-Islam-Fazal (JUI-F) Chief Maulana Fazal-ur-Rehman has said that some circles want to spread vulgarity in the country but his party won't let them succeed.
Addressing a public rally in Swat on Saturday, he said that those nationalists crying rights of Pashtuns today supported the Soviet Union in its invasion of Afghanistan.
He added that Swat has suffered a lot and people of this region have rendered matchless sacrifices in war on terror.
However, some people resorted to celebrations when blood was shed in Swat, Fazal said and added that such people still find jubilation in the massacre of Pashtuns.
The JUI-F Chief added that his party opposed the military operation in Swat; however, accusations of siding with the Taliban were leveled against his party.
Fazal maintained that religious scholars have played an important role in establishment of peace adding that the job would be more difficult if there was no support from the religious scholars.