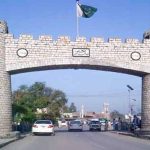 ISLAMABAD: Prime Minister Shahid Khaqan Abbasi has said civilian leaders were being dragged to courts and called Sicilian Mafia adding that no one was questioning dictators.
Talking to a delegation of parliamentary reporters, he said that Pakistan Muslim League-Nawaz (PML-N) would contest the coming general elections with Nawaz Sharif's photo on posters.
He added that the people would vote for PML-N only when Nawaz's photo was on campaign posters.
He expressed his surprise at the recent statement of Pakistan Tehreek-e-Insaf (PTI) Chairman Imran Khan regarding parliament saying that he was surprised that an elected legislator and party cursed the parliament.
Regarding the dissolvent of the government, PM Abbasi said that either Nawaz and the party could decide to dissolve it or the opposition if it dared put a no-confidence motion in the parliament.
He further said that the party would decide about the interim prime minister according to the law.
PM Abbasi said that he would not allow a person to be made interim prime minister like it was made in the past.