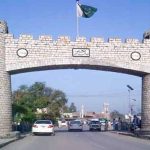 LAHORE: Chief Justice of Lahore High Court (LHC) Mansoor Ali Shah on Thursday has advised the judges to take decision without any fear.
Addressing a judicial academy in Lahore, CJ LHC said that the judges should work like a hero for the welfare of the society. "You are not supposed to get afraid of anything as you are moving on right path. You are required to give verdicts according to law," he added.
He directed the participants to leave an example of honesty and quality work so that people come to see you.
Justice Mansoor Ali Shah has also inaugurated judicial academy for the general training and capacity building of subordinate courts' judges.