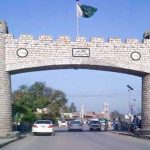 PESHAWAR: The Khyber Pakhtunkhwa government has decided to empower Chief Justice Peshawar High Court (PHC) to appoint Director General (DG) Ehtesab Commission to effectively curb the menace of corruption.
Chairman Pakistan Tehrik-e-Insaf (PTI) Imran Khan made the announcement on Thursday in his twitter post. He said that the Khyber Pakhtunkhwa government will be introducing Bill in the Provincial Assembly that the Director General (DG) Ehtesab Commission should be appointed by chief justice Peshawar High Court (PHC). Furthermore, he said that according to the proposed Bill DG Ehtesab Commission should report to the Chief Justice PHC to make the accountability body independent from the provincial government influence.
Imran Khan said that the party also considering to come up a similar Bill for the appointment of the Chairman National Accountability Bureau (NAB). He said that Chairman NAB has failed to properly perform his duties.
It is pertinent to be mentioned here that opposition political parties has criticized the establishment of Ehtesab Commission and alleged that Chief Minister Pervez Khattak is using the commission against his political rivals.