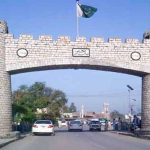 LAHORE: Chief Justice of Pakistan Mian Saqib Nisar has assigned the Khadija Siddiqi case to Justice Asif Saeed Khosa.
The main suspect in the case, Shah Hussain, is the son of a prominent lawyer, and stabbed Siddiqi 23 times.
He was acquitted by the Lahore High Court after the judge ruled that the attacker's guilt could not be established.
The CJP had earlier taken notice of the acquittal.
While hearing a case at the Supreme Court's Lahore Registry, Justice Nisar said no one is above the law. He asked how the suspect was acquitted and observed that if Khadija had been a lawyer's daughter, the case would have turned out differently.
Speaking to the media outside the Lahore Registry, Siddiqi said her message for all women is that we can fight for ourselves. She also thanked the people for standing by her.
She said you must never falter in the face of someone more powerful than you and never show weakness.