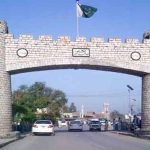 LAHORE: Chief Justice of Pakistan (CJP) Mian Saqib Nisar on Saturday paid a surprise visit to Gulab Devi Hospital in Lahore today (Saturday).
During his visit, the Chief Justice inspected outdoor patient department (OPD) and cardiology ward. Meanwhile, patients complained to the chief justice of various issues faced by them.
It is pertinent to mention here that the Chief Justice of Pakistan (CJP) had taken suo moto notice of the poor condition of government-run hospitals in January this year.
It was told that various complaints were submitted in the Lahore Registry of the Supreme Court, asking the judiciary to take action against dysfunctional machinery, unavailability of medicines and poor public healthcare facilities at the government hospitals.
Earlier today, Chief Justice Mian Saqib Nisar took notice of disparity in salaries of doctors working at the government hospitals, stating those called from abroad are paid a hefty sum while the local doctors are given a small amount in comparison.